Core Team: 
Monica Bosque, Web and UX Designer under the general guidance of Alice Nguyen, Assistant Director of Web, UX and Content
My Role:
• User research on prospective students
• Comparative analysis of other university recruiting pages
• Wireframing
• Writing for new content blocks
• Gathering of fresh, high-quality imagery and image editing
• Building the new page in Omni CMS
The admissions team at SJSU reached out to our digital team to help refresh a recruitment page that aimed to convince prospective students why they should choose SJSU. The current state of the page lacked a clear message and calls to action. It utilized out-of-date taglines, imagery, and video content which lowered the quality and credibility of this potentially important recruitment tool.
In light of the post-pandemic landscape, it was essential to conduct some research to identify any evolving needs or requirements of prospective students. With these new insights, I was able to identify the specific content blocks needed to showcase the unique offerings and services that San José State University (SJSU) provides. The goal was to highlight how SJSU can meet the current needs of our students while ensuring that our recruiting page remains relevant and impactful.
Due to limited resources to conduct independent user research and the fast turnaround needed to launch the page to promote during application season, I began the process by identifying reports from credible sources that shed light on the current needs and requirements of our prospective students. Salesforce/Volt's report "Listen, Optimize, Repeat: A Student-Centric Approach to Higher Ed Marketing" in particular offered very valuable insights based on interviews with higher education marketing leaders, and most importantly, input from over 100 recently enrolled freshmen.
some of the Key takeaways
• What are the university's mission and values (do you care about sustainability like me?)
• What are the resources for safety and well-being (How are you keeping me safe from COVID-19?)
• What are the career pathways (where can a degree from SJSU take me?)
• What are the cost and financial aid opportunities (is a degree still worth it?)
• What is the campus culture like (do I see myself connecting and thriving at SJSU?)
Based on the content blocks I identified from the key takeaways, I sketched out a rough layout of the page to see how I can group content together and create a natural flow from topic to topic. Through more discussions with my director and further iterations, I drafted the final content sections in a Google Doc for stakeholders to review and offer feedback, as well as for the editorial team to help edit and refine my writing for each section.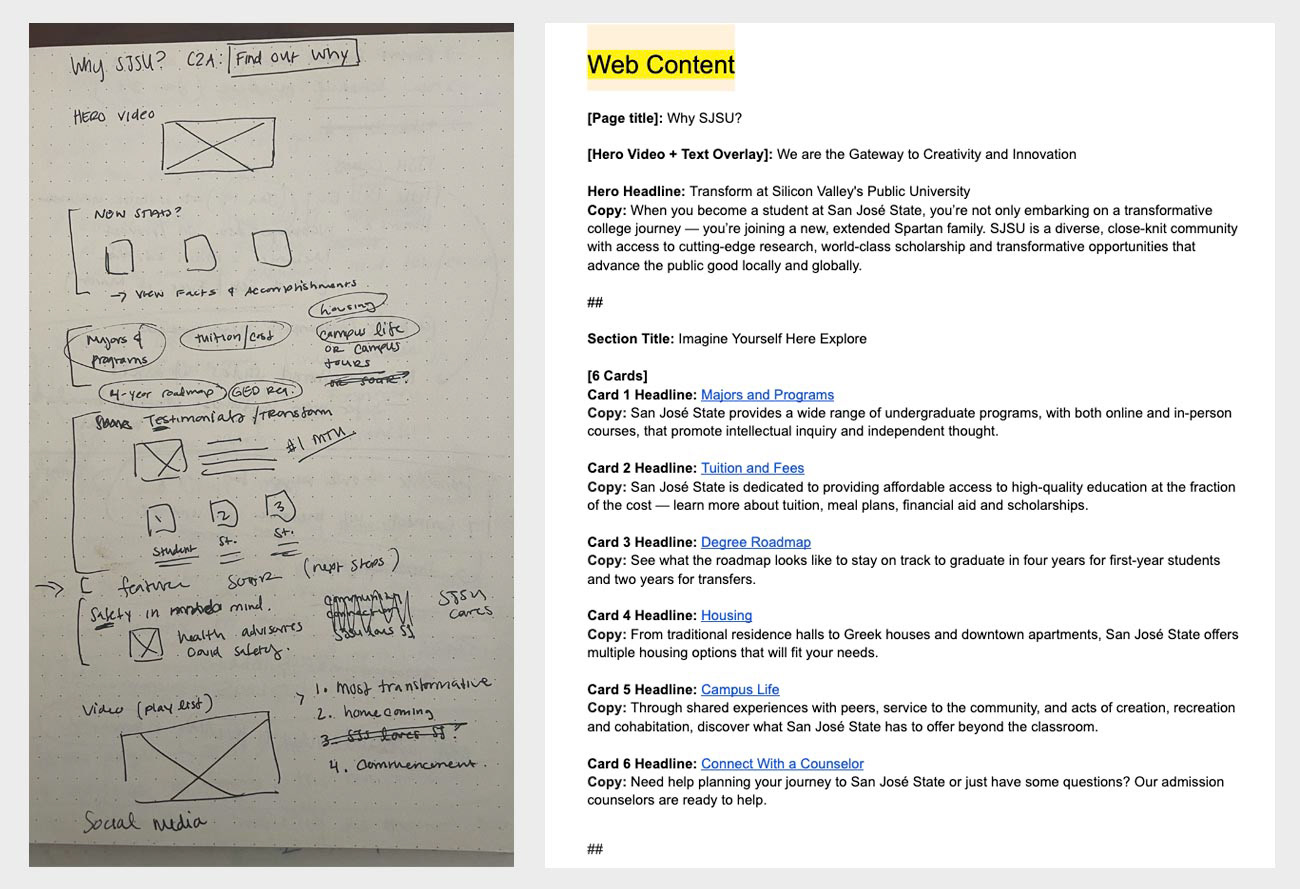 Once the content was finalized, I dove right into building the page. For impact when users first landed on the page, I leveraged existing drone and b-roll footage as the main hero. The footage along with the intro highlighted the unique aspects that set SJSU apart from other universities.
The next section presented all the vital information that prospective students needed to know. This included links to majors and programs, cost, housing, and campus life. Users then flow into a peek at our campus culture, the values that prospective students care about, career pathways, and testimonials from newly admitted Spartans.
To further enhance the user experience, I ensured each section had clear and engaging section titles and headlines with short and concise copy, allowing prospective students to easily scan the page and gravitate towards the information that mattered most to them.
The redesigned webpage offers a more visually impactful recruitment tool that is tailored to the specific needs of prospective students of today. The success was further validated by comparing pageviews from the pre and post-launch of the redesigned page.

Pre-Launch
• Feb - Aug 2021:  
2,293
pageviews, 
1:21 
average time on page
Post-Launch
• Feb - Aug 2022:
4,397
pageviews,
2:30 
average time on page
This showcases a 
92% increase in pageviews
and an 
85% increase in average time on page
.
As one of the projects I thoroughly enjoyed working on and assumed full ownership of, I am excited to continue refining and optimizing the "Why SJSU?" page in the future by seeking valuable feedback and input from future admitted students. Their insights will be important in further enhancing the page's effectiveness and appeal.